Protected Comfort: The Sculpture of Todd Slaughter
(Chicago Cultural Center, 2002)

Catalog essay by Lanny Silverman, Exhibition Curator, Chicago Cultural Center
"For this exhibition, Todd Slaughter had transformed the Sidney R. Gates Gallery into a maze-like cluster of installations and architectural spaces that house sculptural objects and video projections. Many of these installations and objects were specifically created for this exhibition, which also incorporates several of Slaughter's sculptural objects and installations from the last ten years. All of these works treat the domestic realm, and the expressive power of architecture also looms large as a theme. Slaughter has a particular sensitivity towards materials, and his long-standing use of organic materials is now joined with synthetic ones to provoke thoughts about what is real or surreal, natural or artificial. Manipulations of scale and perspective abound as well. The rich variety of experiences the artist provides us with, all lead the viewer to examine the wealth of ideas contained in our seemingly banal worlds.
Notions of domestic security have long been built into our architectural concerns, even before the recent upheaval in our American way of life. At the onset of his project several years ago, Todd Slaughter had indeed been thinking about our self-protective and consumer excesses and envisioned the installation Protected Comforts (Lookout) as a critique of these trends, his elegance and humor not withstanding. The result is a series of installations, united by this theme and its variations. The artist cites The Architecture of Fear, edited by Nan Ellin, and Variations on a Theme Park, edited by Michael Sorkin, as sources that influenced his thinking of this subject.
The most obvious sculptural representation of this critique is the UpState Dream House:Domestic Fortress, an over-the-top baroque parody of affluent suburban living, manifested in a defensive complex of buildings, surrounded by an extravagant landscape of translucent magenta silicon berries and ominous guard-swans, on a slowly rotating cake stand-like presentation. Again, the humor an attractiveness of the piece can easily distract us from its underlying critique of homes as nearly militaristic, defensive fortresses the excesses of built environments evident in suburbia.
Slaughter has designed these installations as a series of architectural enclosures that the viewer enters from the outside and,consequently, contrasts their experience of exterior and interior aspects of architectural design. Thus, the ability of architecture to inspire widely varied feelings, from protection to claustrophobia to vulnerability, are explored. The eponymous signature piece of the exhibition, Protected Comforts (Safe House), illustrates this approach. Entering the glowing-blue, elevated house structure with a high foundation of brick-like, cast graphite fists, the viewer may initially feel a sense of protected comfort; however, the video projected onto the roof conveys something else. Its illusion of increasing numbers of "people" and its ominous soundtrack with this cramped space may culminate in a feeling of claustrophobia and isolation.
Permanent Façade is essentially an observation tower(created from a hunting tripod) that one can climb up, thus to get an overview of the exhibition space. Metaphorically, it represents a high-rise apartment building, inspired by Slaughter's late-night, voyeuristic viewing of residents in such buildings with their wall-sized windows. An earlier version of this piece employed eerie images of residents on display on its exterior (generated from late-night photography), which has now been replaced with felt padding. By the use of soft external materials the metaphor has been reworked to emphasize the contrast between structural strength and vulnerability. The viewer's sense of security is called into question by the invitation to climb the stairs inside Lookout. Our deep-seated worries about structural inadequacies of buildings are mocked by the flimsy exterior of what is essentially a padded cell. Our feelings of vulnerability and protection coexist as they do in the larger domestic reality outside of the exhibition. His last component, The Domestic Museum, consists of an archive of Slaughter's works made over the last ten years, all of which communicate our relationship to domestic toil and familial relationships as expressed through objects. Several approached are in evidence. In Family Dinner, a mock living room is set up with a TV playing a looped video in which a family dinner is literally and physically "deconstructed." This is accompanied by a soundtrack of an interview with cosmologist explaining string theory, all leading one to ponder the turbulence and beauty implicit in familial domesticity. In other rooms, there are numerous kinetic works in which repetitive actions of cast hands or fists cause the wear or transfer of their materials and, consequently, evoke the melancholic disillusionment implicit in task-driven work. This early series of works was inspired by Slaughter's reading of the physician John Napier's study on the human hand and its essential determining factor in distinguising our species by our ability to develop and use tools.
In Comfort Zone, a cast salt sofa and armchair slowly dissolve in their steam-filled chamber. This and The Archive series, in which paper hanging folders are encrusted with various slowing decaying natural substances such as salt, carbon, or paprika, emphasize the ephemeral quality of objects and memory as well. Slaughter's choice of natural spices with preservative qualities- salt or turmeric, for example – lends further irony, along with the above-mentioned works with solid-looking, cast graphite or salt fists and hands, that by their actions grinding themselves back into powder. The artist's wry sense of humor is constantly brought to bear upon the folly of human actions and investment in objects. For another room in this space, Slaughter invited contributions from pet owners in the Midwest to showcase their "pet-chewed" objects," spoofing the importance gained from their exhibition context, as well as memorializing the beauty to be found in he mundane world. This last strategy, also evident in the cast gold kernel of popped corn (displayed like a precious jewel), reveals one of the greatest strengths of the works in this exhibition: the ability of art to have us question our everyday existence and our domestic surroundings, which we so often ignore.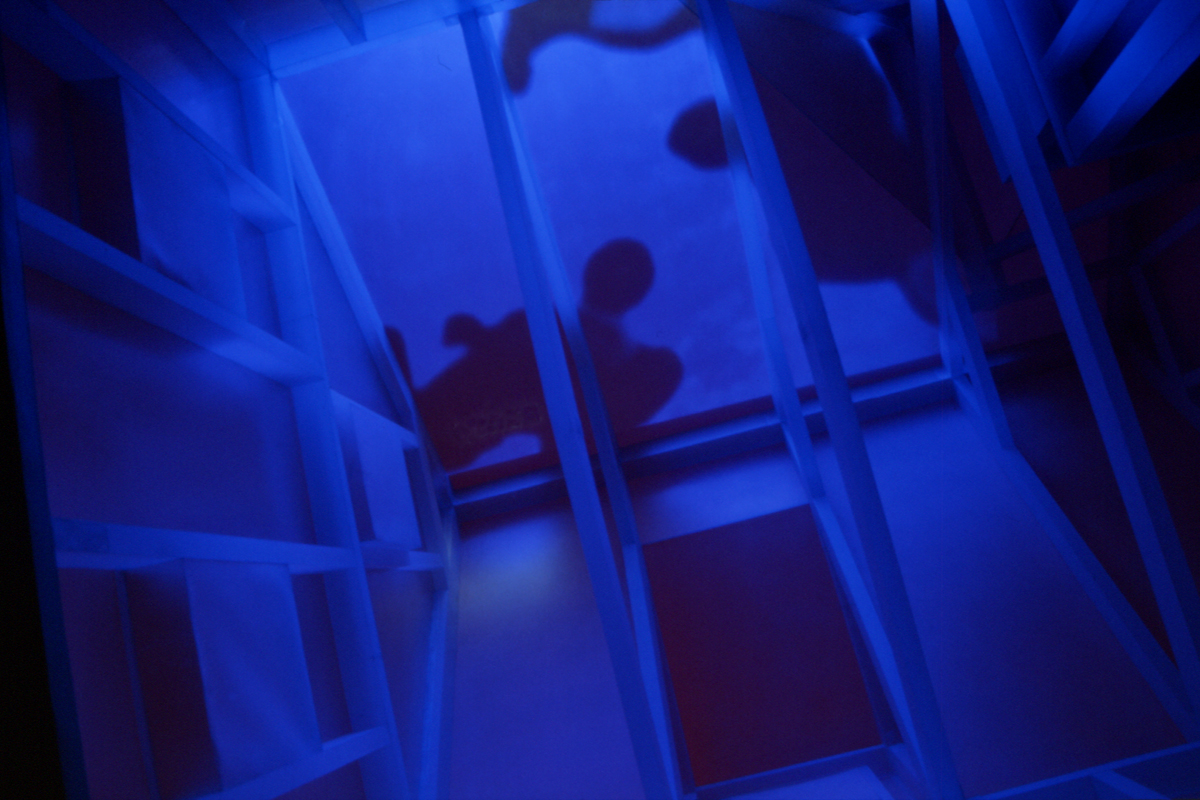 Lookout: Padded Apartment